Articles & Guides
Digital Tools & Innovation Resources: the best sources for your innovation process
in a nutshell
32 web tools & 44 inspiration sources to guide you through the innovation journey of your business or company: find out insightful solutions and inspiring landmarks and stay on top of digital transformation.
Don't have time to read it all?
Here's a brief summary of the key points in this guide.
LEARN TO RIDE
Ready to surf the digital wave and become a leader in your industry? Join Execute.Club, where executives and managers like you can access resources, connect with peers, and get the no-nonsense help you need to succeed in the digital era.
Enter the Club
Anthropological Introduction
The oldest stone tools in the world are now 3.3 million years old. Some hominid species predating the genus Homo had developed the ability to make rudimentary lithic tools: sharp splinters, anvils, and basic hammers. Today we have retained the habit of interacting with and modifying the environment through the use of tools for 3.3 million years. The result of a complex cognitive process, which first requires us to mentally depict the possibility of achieving a purpose in a mediated rather than direct way (in this sense, a tool can be seen as a kind of prosthesis that can enhance human faculties).
A process that consists of concatenated sequences (such as rubbing the head of a match on a rough surface to light a candle and thus obtaining light), extended from tangible to abstract tools (through an app on my smartphone I can get a train ticket). Interaction, actually, today concerns an environment that is as much physical as virtual. We have developed a colorful arsenal of tools that we will continue to feel the need for (and will continue to expand). Technological evolution is the concept that explains the emergence and selection of new artifacts based on an analogy with the organic world to meet our basic biological needs.
Back to the future: the importance of technology
Well, today we can say that the situation has gotten a bit out of hand. True, probably without the help of technology in a broad sense we would still be able to survive, but certainly without prosperity, in a precarious condition. But why should we? The arcane is not so much the advent of technology, but its absence. To the point that we might even think that the advent of technology is the only real revolution in human history, a mutation (rather than a change) in our living conditions. So, once again, bless IT, robotics, digital innovation, and all the tools that simplify everyday life. And, of course, their programmers.
Digital tools
Digital tools: what are they and which is best to use?
The previous anthropological introduction can be read as the metaphor – and, at the same time, the synecdoche – of the evolving world of digital business. Software and tools for remote working, increased productivity, and web presence arise every day, and the very abundance of alternatives creates an annoying paradox of choice. In particular, the two-plus year pandemic and related restrictions have forced innovation teams around the globe to continually reinvent their means of contact and sharing, triggering the proliferation of digital tools. Then, with the medical emergency over, the man realized how convenient, quick, and versatile they were, and he could no longer live without them.
If possible, we have become even more sedentary than before, but this is not necessarily a bad thing, especially from a work perspective. We have new digital tools for virtual communication, prototyping, file sharing, project management and so much more. But, as I said, the risk of running into the wrong solution – unable to meet needs or not particularly user-friendly – is high. From my side, throughout my career I have had the opportunity to deal with a number of these tools. If you are trying to increase your digital capacity, I will try to make it easier for you through a wide (but not so wide) selection of digital tools for innovation.
Digital Whiteboards & Brainstorming
Unless you are a stubborn defender of paper, pen and analog tools, the trend is to use digital whiteboards and computer brainstorming tools to enable remote workshops and idea sharing. But also, to reduce the chaos and confusion that can occur during more traditional in-person sessions.
Mindly
This is a creative and visual brainstorming tool with which you will be able to organize your ideas in a clean and colorful way. It has easy-to-create and customizable elements, together with a smooth and distraction-free design. Mindly has a free plan which lets users export mind maps into PDFs, print them, and share them with ease. Focusing has never been easier.
Coggle
With Coggle, you can get a visual of anyone's mind mapping during a shared brainstorming session. Indeed, it is an intuitive tool (with a free version available) that lets you create collaborative real-time mind maps and flow charts. Also, you can easily customize your mind map canvas because Coggle lets you format the mind map items with Markdown (a markup language with a simple text syntax).
Infinity
This brainstorming software offers amazing flexibility, adaptability, and versatile customization options. Plus, it represents one centralized and organized place for a plethora of projects, from marketing and HR activities to sales and finance processes. You can view all of your data in six different ways, there are 20 fully customizable attributes you can add to your items, and if you like to be waited on hand and foot, you can choose one out of 50 pre-made templates. One little flaw: it has no free trial versions, but a 30-day money back guarantee which functions like a trial period.
Miro
This app is an all-in-one online brainstorming tool that enables you to conduct meetings and workshops, user experience research and design, create diagrams and mind maps and carry out strategic planning – that's it? The platform is super-easy to navigate and to convert from the free version to the full version. It also lets you import and export all of your projects to a whole range of tools. That's a lot.
Virtual Team Communication
As mentioned above, past restrictions have set in motion the evolutionary adaptive spirit of human beings who, suddenly unable to physically meet other people, have caused an exponential increase in the use of long-distance communication platforms.
Zoom
A totally free platform which allows you to make remote workshops easier with calendar syncing, optical directional mics – since it detects the person speaking and directs the mic that way – and fancy touchscreens. The only challenge for users is the need for tiresome web plugins. But, I promise, when installed, it's very easy to share invites, enable screen shares, autosave to cloud, and manage large numbers of participants in webinars.
Slack
This tool is free, customizable, and simply the best when it comes to instant messaging and integration with other software. It is a kind of "business chat" for companies and professionals. Slack can easily connect to other applications (such as Google Drive or Google Calendar) so that you can work simultaneously without having to switch between tabs. And with powerful tools such as Workflow Builder, you can even automate routine tasks.
Microsoft Teams
Teams is not only a virtual communication platform, but also allows file sharing – a category of digital tools we are about to analyze. It generally accounts for the preferences of PC users but being web-based there are no particular problems for Mac users during remote collaboration.
File Sharing & Online Archives
The enhancement of file and digitalized document sharing platforms is a natural consequence of remote working and a necessary evolution of e-mail. Arguably, it is best to gear up with multiple file sharing services to meet each client's preferences and security policies.
Dropbox
One of the first choices is always Dropbox. It offers fast sync speed, file versioning backups, and the ability to share files easily with clients through secure links on Windows devices. Dropbox Business, then, allow users to integrate everyday tools (such as Google Docs, Sheets, MS Office) in a single platform.
OneDrive
OneDrive integrates nicely with Microsoft 365 and Microsoft's mobile apps, and it offers real-time collaboration in Office documents. A free plan gives you 5GB of storage, which is more than Dropbox but less than Google Drive. Files are protected with enterprise-grade security measures and are scanned for known malware when downloaded.
Google Drive
The professional solution for sharing files within a team, saving documents, photos and shared projects. Features such as Documents and Sheets are extremely useful and make multi-handed writing incredibly easy.
WeTransfer
This website is particularly useful when you need to attach medium-sized files that are generally too heavy for the various e-mail services. The free version allows you to upload up to 2GB of files. WeTransfer is a very user-friendly platform, but it can be a bit risky for sensitive documents as they remain temporarily stored on a remote server for 7 days and could potentially get hacked and stolen.
Prototyping Tools
Prototyping is a common method for testing and evaluating ideas in a very early stage of development, popularized by Design Thinking and Lean Startups. It forces designers to dive a bit deeper into their ideas in order to clearly understand assumptions and possible solutions. Basically, what they get is a tangible product ready to get out, be tested, obtain valuable customer reactions and feedbacks, and, hopefully, fail. Yeah, you got me right. Failing fast, hard, and often is the key to avoid failing big. Start from an idea and iterate on it along the way – using those tools.
POP-app by Marvel (no, not the Spider-Man publishing company)
Marvel's Prototype on Paper App bridges the gap between paper and digital prototype. It is a free, very simple app with an extremely short learning curve, which will help you make on-screen links between several paper sketches. All you need to do is to take pictures of them to get an interactive prototype ready to hit the streets.
InVision
This is the perfect tool to get started with for a straightforward customer experience. It helps designers to develop high-fidelity graphics that could easily resemble already finished designs. Invision has a lot to offer: uploading screens and creating hotspots to link them to one another, creating in a matter of hours shared prototypes where coworkers could work together, and so much more. And the best thing is that you don't even have to be a coder.
Sketch
A fantastic tool to convert wireframes into smooth and great looking designs through one of the easiest user interface programs on the market. This is Sketch. It also has a large number of templates to make your prototyping a bit faster. Additionally, you can share your thoughts and projects with an amazing community of like-minded people willing to help you. However, once again, nothing is perfect. Sketch is only available on Apple, it's not a real-time collaboration tool and doesn't have a free version. Sad.
Figma
Instead, Figma really excels as a real-time collaboration tool. You can create prototypes, wireframes and mockups in a fast way with your remote teams but also in front of your clients. Not only that, Figma gives designers the opportunity to work together and exchange knowledge through small design contests, virtual birthday presents, and virtual spaces such as scoreboards to keep track of board games played remotely.
Blog Building & Hosting
No online business can survive without a blog on which to tell its story, present skills and demonstrate capabilities. But creating a personal blog is time-consuming and virtually endless since content must be continually and constantly updated. Then there is a whole series of paratextual aspects to consider, such as speed of loading pages, posts and images, performing and appealing themes, and, last but not least, hosting.
WordPress
One of the most widely used Content Management Systems in the world, certainly the most popular – WordPress. Basically, you need three things to create a blog with WordPress: a domain name idea, a web hosting account (we'll look at that later), and a dash of intuitiveness. You can install plugins, customize designs, and make money without any restrictions. The undoubtedly best aspect is the fact that wordpress.org is open source, so 100% free to use. This does not mean that there is nothing to pay. Remember the domain name and web hosting account required? That's it, they have an annual cost (but generally very low).
Siteground
Web hosting is where your website files live. It's literally your website's house on the internet. And every blog needs web hosting. Siteground is one of the most popular WordPress Hosting Companies and represents the secret of better performance. But it is a flexible platform optimized to support a large number of apps based on PHP and MySQL, whether they are a CSM, a CRM, a forum, a wiki or more.
Webflow
A very smooth and powerful website builder that allows you to create high-performing, flawlessly designed websites. In Webflow, content management meets visual design. But the real main cornerstone of Webflow's philosophy is no-code. The program was created specifically to allow people who want a website to do most of the work without ever touching the source code, while still working with clean, well-written code.
Shopify
A simple and powerful sales solution. Shopify offers subscription-based software that allows anyone to set up an online store and sell their products. Shopify is designed to be a flexible and scalable trading platform. Hence, it allows you to quickly launch whatever business you wish and start selling anywhere in the world. You are free to customize your store, or even build a completely unique one.
Landing Pages
A blog that is too simple and has little visual impact is unlikely to attract attention and induce users to return. Blogging alone does not make business, nor profit. I also discuss this in this guide on digital communication. It is inevitable: you will have to create pages with eye-catching graphics, free or paid membership areas, or sales pages, to promote yourself or your products.
Instapage
This is one of the most well-known and widespread Landing Page Builder. It helps you create after-click landing pages optimized for conversion, especially for lead generation and e-commerce. The Builder, as is often the case, operates with blocks in drag-and-drop mode. In addition, Instapage combines other Conversion Rate Optimization (CRO) features such as heatmaps, A/B Testing, and other tools. Uh, and a ROAS (Return on Advertising Spend) that Instapage claims is up to 400 percent.
Sendinblue
The landing page creation functionality lets marketers build and launch custom landing pages directly from the SendinBlue platform. Sendinblue offers users a selection of landing page templates and, once again, a drag-and-drop mode to customize pages. You can even choose from an embedded royalty-free stock photo gallery for your images. And since Sendinblue is an email marketing service provider, it offers some example use cases, such as product-focused landing pages to drive conversions from your email campaign traffic.
Kajabi
On a blog, it gets crowded quickly: a simple membership area for each course or infoproduct for sale is no longer enough – and thankfully so. There are customers who buy access to more content, and it would be better if they could use the same credentials for each access. Kajabi, an amazing tool for creating and managing membership areas, takes care of that. One small problem: There is a 14-day free trial, yes, but then it gets very expensive.
Digital Payment Systems
By now the blog is ready, optimized, efficient. You have your product to sell on the appropriate sales pages or members-only areas. All that's left is for you to decide on a payment system. You have lots of options when it comes to online payment methods. Here are four of them.
Gumroad
This app takes care of simplifying the online sales process. It offers a shopping cart for online payment, a system to automatically deliver orders to customers, and a private area where you can upload your products online. Oh, one more thing: Gumroad is free. Simply, every time a customer buys one of your products, Gumroad takes a commission. And here comes the best part: the more you sell, the more Gumroad's commission goes down.
Stripe
With a robust API, Stripe is an excellent payment solution for web developers. It is graphically appealing, easy to set up, and the commissions on sales it takes are far lower than competitors such as Clickbank. Indeed, Stripe charges 2.9% + $0.30 per transaction with no setup or monthly fees. The recurring payment management system is also very well-featured.
PayPal
The world's most widely used payment system. It is the standard. Everyone knows it, everyone uses it, everyone trusts it. Payments are made using a user's existing account or with a credit card. Also, money can be sent directly to an email address, thus prompting the users to sign up for a new PayPal account. PayPal has another feature that is as important as it is rare: it allows its users to send money through the service.
Shopify Payments
Payments is the Shopify-branded payment gateway. Among the various strengths, I would first point out a cost reduction related to not having to pay additional commissions. Of course, Shopify Payments offers several checkout options. This increases customers' willingness to purchase by setting them free to choose their preferred payment method. Finally, the opportunity to add evidentiary documentation directly from Shopify provides significant chargeback management ease.
Someone said Productivity?
Let's face it, the risk of getting distracted within the walls of your home or elsewhere than in your office chair is definitely high. Or so it seemed during the first period of adjustment to remote working. But, once again, human resilience has prevailed. Remote working is becoming easier and more productive because many have figured out how to make it successful. But, again, one reason for this is that teams have adopted the right digital tools to get work done.
Todoist
This is an excellent task manager which, first of all, allows you to create in several ways the list of tasks you need to complete. You can create recurring or "unique" duties, scheduled or shared with other users, and manage them through a cross-platform view. Todoist's interface is simple and straightforward, and the app has basically no learning curve.
Pushbullet
From computer to smartphone, from smartphone to tablet, from tablet back to computer, and so on. "But what do I do with all these devices?" you may be wondering. Well, this is none of my business. But I can tell you how to keep them under control while avoiding constant bouncing from one to the other. Pushbullet is the ideal tool that allows you to gather your devices into one platform for quick and super-efficient synchronization.
Hubgets
Did you know Frontpage released a survey that found our professional inboxes are more cluttered than our personal accounts? If you, too, receive tons of emails per workday, you may have noticed that you need some order. Messages quickly go unnoticed and then get lost in oblivion. Hubgets converges and simplifies all of your communication channels and allows you to easily search previous conversations, files, or content. No more endless email notifications and never-ending email threads. Just focus on your work.
Calendly
A very practical tool for scheduling meetings and appointments without distractions is Calendly. Indeed, you just need to set your available hours during a week. If someone wants to arrange a meeting, they can reserve a time without having to submit a calendar request via email or having to go back and forth on a time that works for both of you. And you can also set some buffer time and even erect barriers for last-minute meetings. Time is the enemy. Try to get ahead of it.
Innovation Resources
Innovation Resources: let these guides inspire your innovation process
I know, leading an innovation project is a complicated and nerve-wracking challenge, especially if you are not a digital native. And then there's also the fact that it wouldn't be called "innovation" if it didn't involve new developments. Your old, established habits may not be enough (well, maybe for sure). But, fortunately, you are not alone. We all have an example to follow and take inspiration from when tackling something unprecedented.
If you are looking for fresh resources and have little time to set about selecting them one by one, I want to give you a hand. I have selected business blogs, newsletters, podcasts, thought leaders and social profiles, hashtags, books, and more to leave you in great company along your innovation journey.
Innovation Blogs & Websites
It's hard to keep track of emerging trends and new business ideas. But strong innovators should have a heavy backpack loaded with inspirational cases. I know, back pain is not really nice. That's why you should also gather, manage, and reed your feeds via Feedly, a news aggregator also available on mobile. Well, let's have a look at some interesting websites. Take notes, by now you should have the tools!
Fast Company: the world's leading business media brand, with an editorial focus on innovation in technology, leadership, world changing ideas, creativity, and design.
Indiegogo: a crowdfunding site to source funding for your new projects and spot innovative products before they go mainstream.
Springwise: an innovation-focused news service for you to stay up-to date with really hot innovations from every industry.
ZDNet: discover the best technology ideas emerging from around the globe and how they are promising to help build a better future.
Product Hunt: a place for product-loving enthusiasts to share and geek out about the latest mobile apps, websites, hardware projects, and tech creations.
Futurism: a juicy spot for news and stories about the future – if you're into enhanced humans, AI, and sci-fi visions, you should definitely check it out. You'll probably like their Instagram, too.
Owler: a digital business database where you can follow companies and get customized alerts, conduct research, or monitor your business's image. Such a pity that it is no longer free.
Reddit Startups: the place to discuss startup problems and solutions in order to let ventures grow and scale rapidly.
MineThatData: Kevin Hillstrom's consultancy firm trying to help CEOs understand how customers interact with advertising, brands, channels, and products.
Innovation newsletters worth signing up to
I know, you're probably struggling to reach inbox-zero and the last thing you want is to sign up to another newsletter. What if I told you that there is a tool that meets your needs keeping track of what you have already read or plan to read? Yeah, it exists. It's Pocket. And these are the newsletters. No more excuses.
Smarter with Gartner: the world's leading advisory company. Easy-to-read articles which tell you nothing more than what's driving (and sometimes reinventing) business success.
All the small things: I know you read it singing, but it has nothing to do with Blink-182. It will send you a rather well-edited roundup of the most relevant articles on digital, design, strategy, and innovation.
Dense Discovery: a curated mix of stuff designed to help people working on the web to get their things finally done, think critically, and stay inspired.
Mattermark: dedicated to founders and VCs, a useful digest of timely, must-read posts by investors and operators which provides an in-depth look at the latest content from thought leaders in VC, startups, and related enterprises.
Bizarro Devs: weird and wonderful tech news, stories that you would think came out of a futuristic sci-fi movie, and so on. Curiously entertaining.
Innovation & Business Podcasts
Sometimes reading is not enough for us. We want to catch inspiration directly from the live voice of an entrepreneur, a top manager, a people person. Podcasts are the wave of the moment because they can work as background while we do other activities and hit our attention at the right time. There are so many different ones, with more or less broad focus. Check to see if there are any among them that can make you perk up your ears.
Atoms & Bits
OK, I'll admit it, I'm a little biased. But this is the only Italian podcast made by managers for managers. You can sense the importance of it. The flagship podcast on Digital Transformation in partnership with ManagerItalia, where I interview top managers from leading Italian and non-Italian companies to reveal their secrets. The main language is still Italian but English transcript will be available soon. It just takes a little patience.
Entrepreneurial Thought Leaders
Made by Stanford eCorner, it features stories of entrepreneurial success by leaders from top companies like Facebook or Airbnb. A load of inspiration.
The World Ahead
If you're a Black Mirror fan, you'll love this podcast from The Economist. It is a future-gazing transmission which forces listeners to flex their imagination by providing different perspectives on the present and advancing provocative prophecies.
Without Fail
A podcast with a very simple formula. Every week, Gimlet co-founder Alex Blumberg asks people who have pursued majestic goals 3 basic questions: What worked? What didn't work? Why?
HBR Exponential View
A very interesting Harvard Business Review podcast about how AI and other technologies are going to transform business and society. Women In Innovation: insightful content on everything going on in the field of innovation from leading ladies in the business. Here you'll also find more podcast, article, book, and video reliable recommendations.
Thought Leaders & Social Profiles
Everyone has an idol, a figurehead, a role model. And who said it only has to be athletes, musicians or internationally successful men? Being famous does not necessarily mean becoming a thought leader (it's far more complicated than that, I discuss it thoroughly in this guide). I have collected for you some physical and virtual profiles that could direct your behavior to the point of considering them true spiritual guides for your business career. Good luck not falling in love with them.
Scott Galloway: the undisputed king of talks and short articles. He's a marketing professor at NYU Stern who writes posts filled with outraged humor and helpful insights, predictions, and unique perspectives.
Nadia Piet: a service & strategic designer, researcher, and content creator with a focus on emerging technology. Her articles, newsletter, and social posts are written in a very charming style and are full of interesting tidbits on literally everything.
Tom Goodwin: a speaker, a writer, and a quite interesting person to follow on social media, as he breaks down advertising, media, business, and digital transformation trends.
Now, let's continue with some relevant Twitter accounts:
@petervan – artist, designer, and experimentalist in a digital-related perspective.
@rrhoover – founder of Product Hunt sharing insightful tweets. @alexosterwalder – founder of strategyzer.com, author, and serial retweeter.
Use #hashtags to stay updated
But what if too many people are talking about the same thing, and you don't want to miss a single response from a heated thread? Or if you are only interested in a particular topic that your social media outlets are talking about? It's easy: track specific hashtags, like #digitaltransformation, #innovation, #sustainability. Those hashtags will give you good advice on who to follow in the field of future business.
Another interesting trend is to follow specific region hashtags. Indeed, today quite a few regions have their personal hashtag to share autochthonous information about technology and startups. This way you can plan your own virtual or physical inspiration journey and reach out to targeted communities. Take a look at them.
#SiliconBeach – Los Angeles
#FinlandTech – Finland
#StartupIceland – Iceland
#SwedenTech – Sweden
#EstonianMafia – Estonia
#BeTech – Belgium
#CPHFTW – Copenhagen
#startupdk – Denmark #helyes – Helsinki
Books on innovative mindset, innovation tools, and challengers
In the end we always come back here: reading, in its most classical form. Books, whether in print or digital format, will return the deepest insights, those capable of lasting the longest. Below I am going to provide you with a list of revolutionary books that will try to give you back a mental framework for success, concrete tools and advice for your innovative projects, or at least make you reflect on the status quo, raising some important questions, and questioning some of your certainties.
The Lean Startup, by Eric Ries, offers entrepreneurs a way to test their vision continuously, to adapt and adjust before it's too late.
The Innovator's Dilemma, by Clayton M. Christensen, is the revolutionary business book that has forever changed corporate America.
The Ten Faces of Innovation, by Tom Kelley, reveals the strategies that IDEO (the world-famous design firm) uses to foster innovative thinking throughout an organization and overcome the naysayers who stifle creativity.
Gamestorming: A Playbook for Innovators, Rulebreakers, and Changemakers, by Dave Gray, with more than 80 games to help you break down barriers, communicate better, and generate new ideas, insights, and strategies.
This Is Service Design Doing, by Marc Stickdorn, about how to actually do service design to improve the quality and the interaction between service providers and customers.
Don't Just Roll the Dice, by Neil Davidson, a useful short handbook which tries to answer the question "How do I price my software?"
What's Mine is Yours, by Rachel Botsman, traces back to the roots and the rise of "collaborative consumption".
Democratizing Innovation, by Eric Von Hippel, where the author explains how the emerging process of user-centric, democratized innovation works.
Cognitive Surplus: Creativity and Generosity in a Connected Age, by Clay Shirky, examines the changes we will all enjoy as our untapped resources of talent and good will are put to use at last.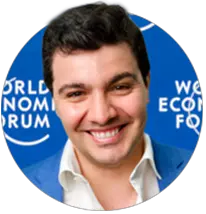 An important message for you
Hi there! I hope you found this article insightful.
Allow me to introduce myself. I'm Andrea Latino, the author of this article.
I have spent over a decade earning the trust of world-class multinationals, institutions and startups for their digital and innovation initiatives.
Are you curious about my story and how I could help you?
See how I can help you