public affairs & comms
From local to global
In 2014, I acted as the Digital Strategist for a Vice President of the European Commission, designing her new digital identity through a website focused on a more institutional communication and a simple, yet effective user experience.
Client
VP EC
Industry
Public Institution
Year
2014


CHALLENGE
How do you communicate strategic choices affecting half a billion people?
Smartphone. Thumb. Type. Scroll through the results. Whether it is to learn about their history, achievements, or political views, we have all searched for some public figures online, at least once in our lives.
However, Web and Social Media are often nothing more than megaphones for a politician; and having the responsibility of representing millions of people is not something to be taken lightly. Times change, and so do voters.
I think change is the paradigm of every transformation and status shift, and when change means growth, it becomes crucial to rethink our communication style if we are going to face broader challenges, and in this specific case… 380+ million bigger.
SOLUTION
How should a national leader communicate when moving to the continental level?
Just as a political career is a succession of different moments and different offices, the image that politicians project online must change and evolve according to the audience they address and the role they play. The more prominent the role, the more immediate (and effective) their communication must be.
With the aim of transforming political communication to citizens, I was chosen to create the new digital identity of the former Italian Minister of Foreign Affairs and International Cooperation, as she became the High Representative of the Union for Foreign Affairs and Security Policy, as well as Vice-President of the European Commission.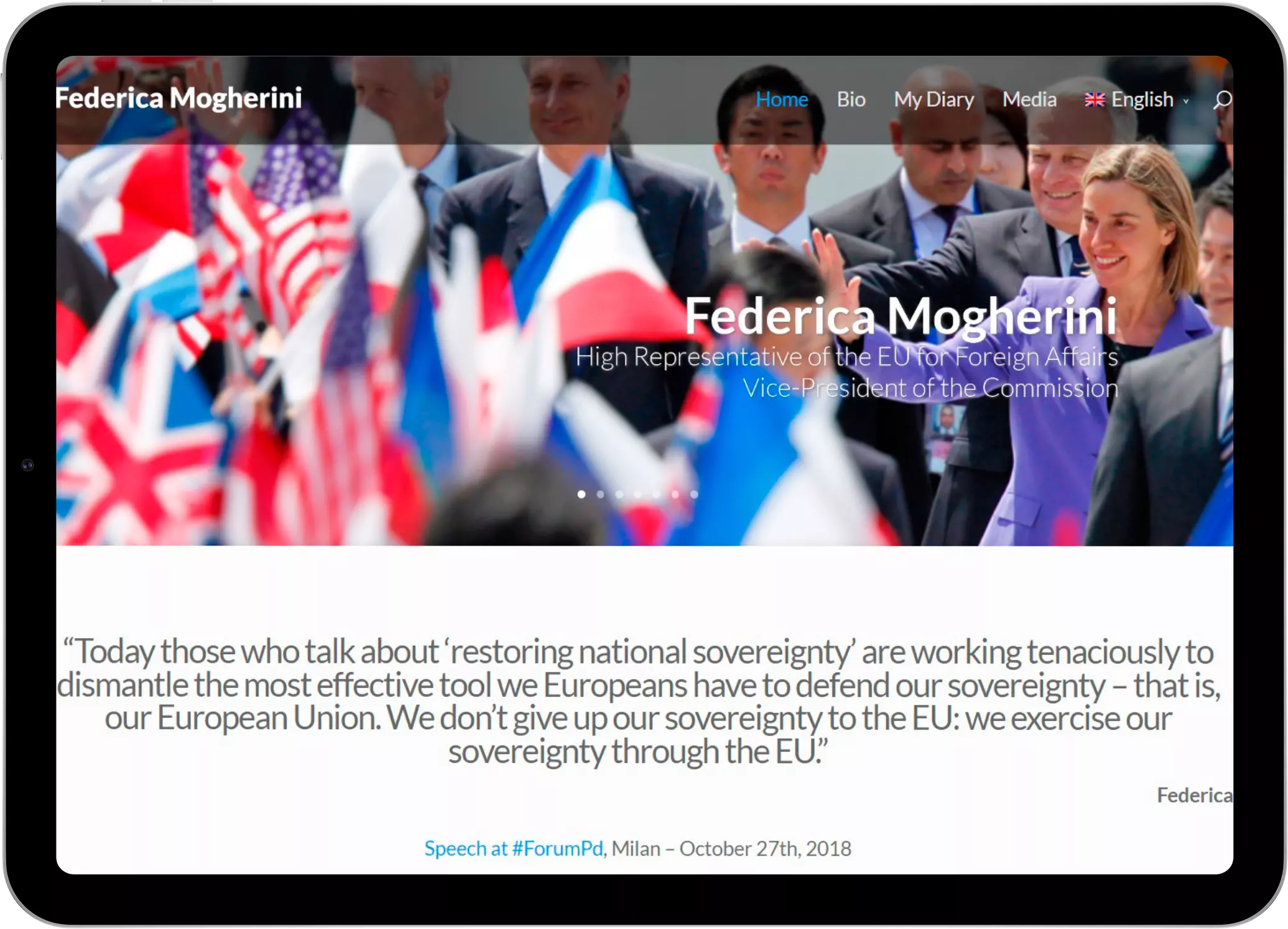 Results
How to reshape the digital identity of a VP of the European Commission?
In order to transform the VP's personal blog into an institutional site capable of representing the high offices she held and the work she did in Italy and Europe, and communicate effectively with all institutional stakeholders, the media, and the press, it was necessary to go back to basics.
So I decided to move away from the local, familiar style adapted to her national context and a specific electoral base, toward a more rational style, in order to be able to communicate with a much broader audience.
Using Digital Experience Prototyping methodologies, I developed a new logo and new website. The items I chose for the interface had to reflect the following parameters: sober colors, the possibility of multi-language, an international focus, and an extensive media gallery. The brief elements I relied upon were few but precise: elegance, immediacy and usability. The result? A sharp snapshot of the figure portrayed, characterized by the sense of authority that distinguishes her and the work she has done during her time in office.

impact
& key activities
3months building a new
political digital identity

1brand-new consistent
institutional website
10digital experience prototyping
ITERATIONS

446+million eu citizens
represented
Stay in wonderland
Let me show you how deep the rabbit hole goes.
Here are more Client Results: