Innovation Alphabet
Natural Language Processing (NLP)
In a nutshell
Natural Language Processing (NLP) is a computer application that uses Artificial Intelligence to analyze, learn, and manipulate the very complex human language. The purposes are many: to understand the content of a text, to translate it, or to make one autonomously from the input provided. In short, the software that all students have dreamed of while writing an essay.
Application Fields
• Intelligent conversational systems: With the help of deep learning, NLP technologies are able to emulate human dialogue by consistently answering questions on different topics.
• Sentiment analysis: Natural Language Processing can be used to analyze the level of satisfaction of users. It is a useful technique in the marketing and communication fields to understand which aspects of the company customers find satisfactory and which they would like to see improved.
• Text summary: The software can summarize texts, recognizing the most relevant information. It can do this by following two techniques: "extraction" involves identifying key phrases and using them as the basis of the summary, without adding extra content; "abstraction", on the other hand, allows new phrases to be created by paraphrasing the entire original source.
Do you have a Strategy & Innovation challenge to tackle? Let's face it. Together.
C-levels from these companies (AND MORE) relied on my expertise to overcome thEIR CHALLENGES IN THIS AREA. And You can, too.
Can I help you?
Industries
• Natural Language Processing in the automotive industry
To analyze the data generated on Facebook, optimize its social presence, define its editorial plan, and support the marketing department, Piaggio has implemented Natural Language Processing techniques that combine methods of data mining (extraction of a large amount of data) and machine learning with information retrieval and, of course, NLP.
• Natural Language Processing in the language field
Grammarly is a writing tool that relies on the use of Natural Language Processing to correct grammatical and spelling errors. Grammarly focuses mainly on a close application of Artificial Intelligence for grammar assistance, but it can also check text clarity and suggest suitable synonyms.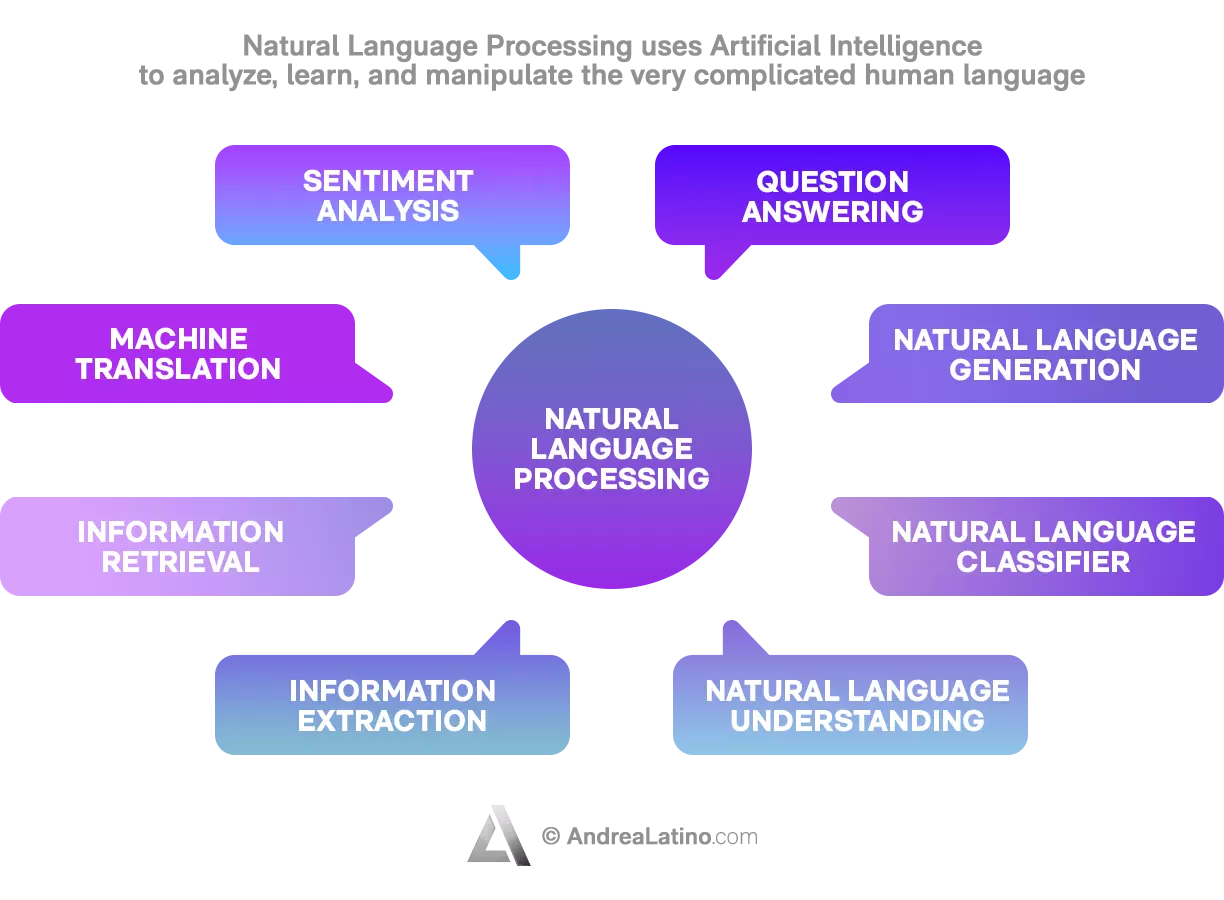 Business Functions
• NLP in support of customer care
Apple devices can rely on the insights of Siri, the first true virtual assistant for smartphones. Siri uses two main technologies: speech recognition and Natural Language Processing. Basically, the computer process involves recognizing words spoken by a person and converting them into text form. By starting a sentence with the formula "Hey, Siri", Apple's speech recognition software kicks in and initiates digital transcription of the words.
• NLP in support of HR
Querying the candidate database by searching for keywords, skills or professional experience in advanced search fields, the algorithm that makes up the Performa Recruit software analyzes the information accumulated from reading resumes and sifts through it in search of the most suitable candidates for the position.
• NLP in support of customer service
Amtrak is the trade name for the U.S. suburban rail transportation system. The corporation found itself having to handle millions of inquiries from customers. By failing to answer each one's questions, it was losing too many potential travelers. So, it turned to chatbots: software designed to simulate and process human conversations that were able to successfully handle more than 5 million messages.