Innovation alphabet
GE-McKinsey Matrix
in a nutshell
The GE-McKinsey Matrix was born in the 1970s out of a collaboration between the consulting firm McKinsey and the General Electric company to develop a product portfolio management model. The result was a strategic analysis tool capable of providing guidance on which investments deserve higher priority to ensure growth at an optimal pace.
How to build the matrix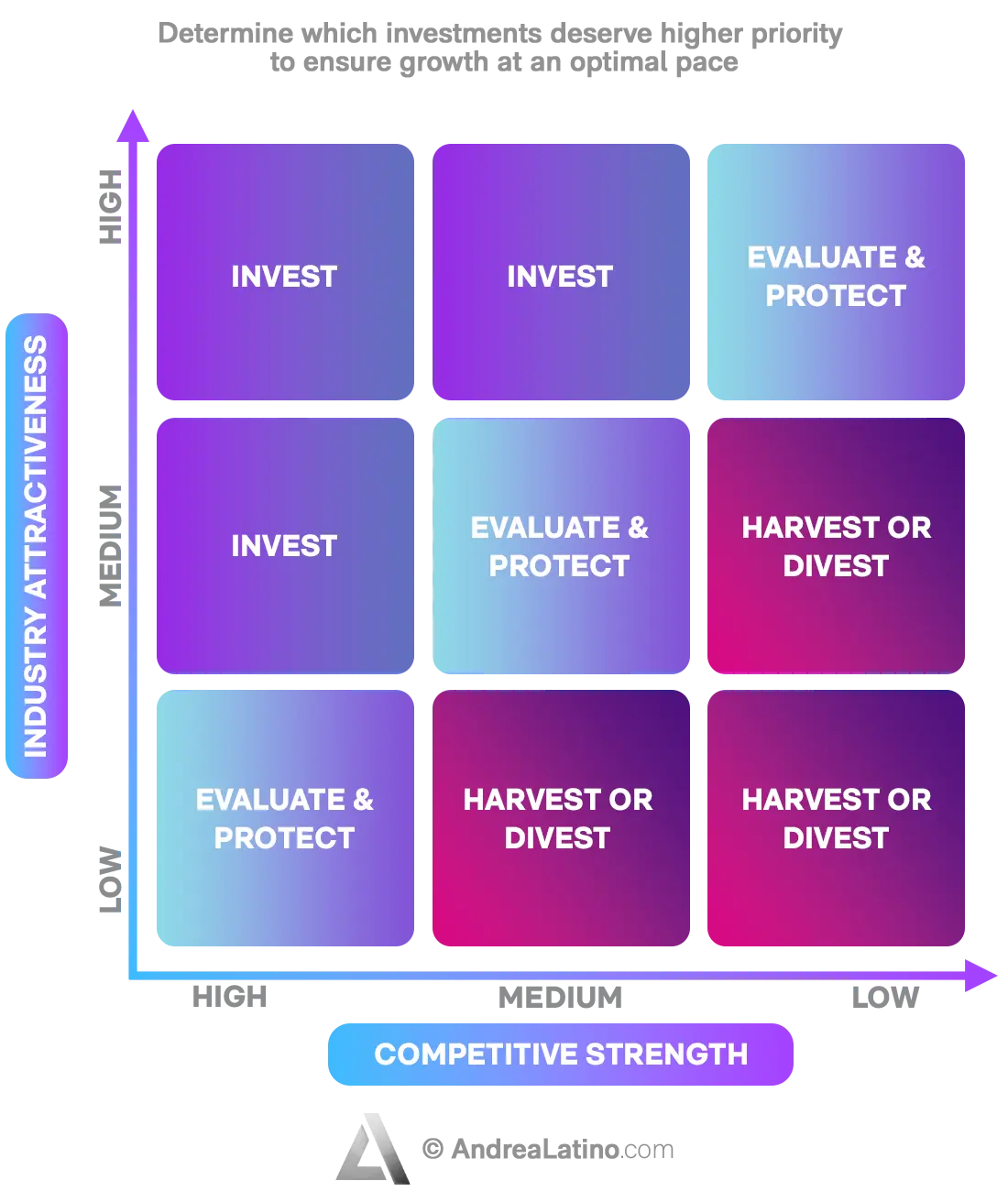 1) Determine the attractiveness of the industry for each product. "Attractiveness" refers to the degree of difficulty for a company to compete in a given market and earn profits. You can calculate it by considering parameters such as growth rate, share, market segmentation or the product itself. Determine weight, evaluation, and weighted score for each of the company's products, as in the simplest IFE & EFE matrix. Each product or service will receive a score, placed on the y-axis of the GE-McKinsey Matrix in ascending order.
2) Determine the competitive strength for each product. The term "competitive strength", on the other hand, indicates how strong a business or a product is compared to its competitors in the market in which they operate. You can figure it out by analyzing several factors, including brand awareness, company profit margins, or customer satisfaction. Just as in the previous step, attractiveness is calculated using the IFE & EFE matrix model. The score obtained for each individual product will relate to the x-axis of the GE-McKinsey Matrix in a decreasing sense.
3) Placement of products in the Matrix and reading the Matrix. If attractiveness is the ordinate and competitive strength is the abscissa, arranging the various points/products of the company we derive 9 quadrants: the three middle-high quadrants on the left will collect the growing investments, while the middle-low quadrants on the right will present the products on which it would be better to divest, as they have low competitive strength and low attractiveness. The remaining quadrants, which cross the graph diagonally, will contain products in an intermediate situation, which need to be evaluated: this could mean a low competitive position in an attractive sector or high competitiveness in a less attractive sector.
Do you have a Marketing & Sales challenge to tackle? Let's face it. Together.
C-levels from these companies (AND MORE) relied on my expertise to overcome thEIR CHALLENGES IN THIS AREA. And You can, too.
Can I help you?
Industries
• GE-McKinsey Matrix in the IT industry
Even with a major brand such as Apple, it is possible to register several market trends: for example, iPhones, AirPods, and other services such as Apple TV and Apple Pay are steadily on the rise, while, on the contrary, some products are not even made anymore, including iPods, which were removed from stores in 2017.
• GE-McKinsey Matrix in the clothing industry
Starting with five-year data, a study in the International Journal of Business and Management presents several Italian fashion houses in the form of a GE-McKinsey Matrix. Among them, Benetton is part of those with medium attractiveness and good competitive strength. Moschino and Armani both have medium competitive strength but low attractiveness. Valentino, on the other hand, has high attractiveness but low competitiveness.
• GE-McKinsey Matrix in the video gaming industry
The video gaming industry is dominated by a multiplicity of companies, including Sony, EA, Activision, Microsoft, and Nintendo. It is a particularly profitable market. An analysis based on the GE-McKinsey Matrix looked at Sony and Nintendo: the results showed that video gaming devices made by Nintendo have a larger market share than those put out by Sony because they are simple and innovative, aimed at naturalizing the gaming experience. However, the devices made by Sony are far more sophisticated and use advanced technologies: as a result, they cost more. It follows that Sony should adopt a cost-cutting strategy that meets the needs of consumers.
Business Functions
• GE-McKinsey Matrix in support of R&D
Today we take electric cars for granted, but this has not always been the case: Ford decided to go electric only after noticing that it was still a niche market, bearing in mind that the design of electric vehicles is very different from the design of traditional cars. After choosing to expand its offerings, Ford now has found a greater attractiveness as a brand.
• GE-McKinsey Matrix in support of manufacturing
In 2006 Microsoft introduced the Zune mp3 player to the market. Don't remember it? Of course not, because less than a year later, Apple introduced the world-famous iPod, wiping out the competition. From a market analysis, Microsoft decided to eliminate the Zune brand and its products after just two years. It was actually a good decision, because the media player did not have a strong presence or even market appeal, since most people had preferred to buy an iPod to listen to music.
• GE-McKinsey Matrix in support of strategy
Since Nestlé knew that it was going to compete in the FMCG market alongside other players such as Kraft Foods, ConAgra, Danone, and Mondelēz International, the company was able to understand and meet its customers' needs following a careful analysis. In fact, the multinational corporation wanted to align its 7 cornerstones (strategy, structure, system, skills, staff, style, and shared values) in a mutually reinforcing way, succeeding in expanding its global market while maintaining a strategic organizational structure.