Innovation Alphabet
Quantum Computing
In a nutshell
Don't panic: we will not cover quantum mechanics in detail. But today technology is evolving at the speed of light to provide ever more powerful and high-performance computing solutions. And Quantum Computing is one of the most fascinating areas of development: just think about processors based on the fundamental unit of the quantum bit that are capable of exploiting physical laws to increase their computational power.
Where we stand today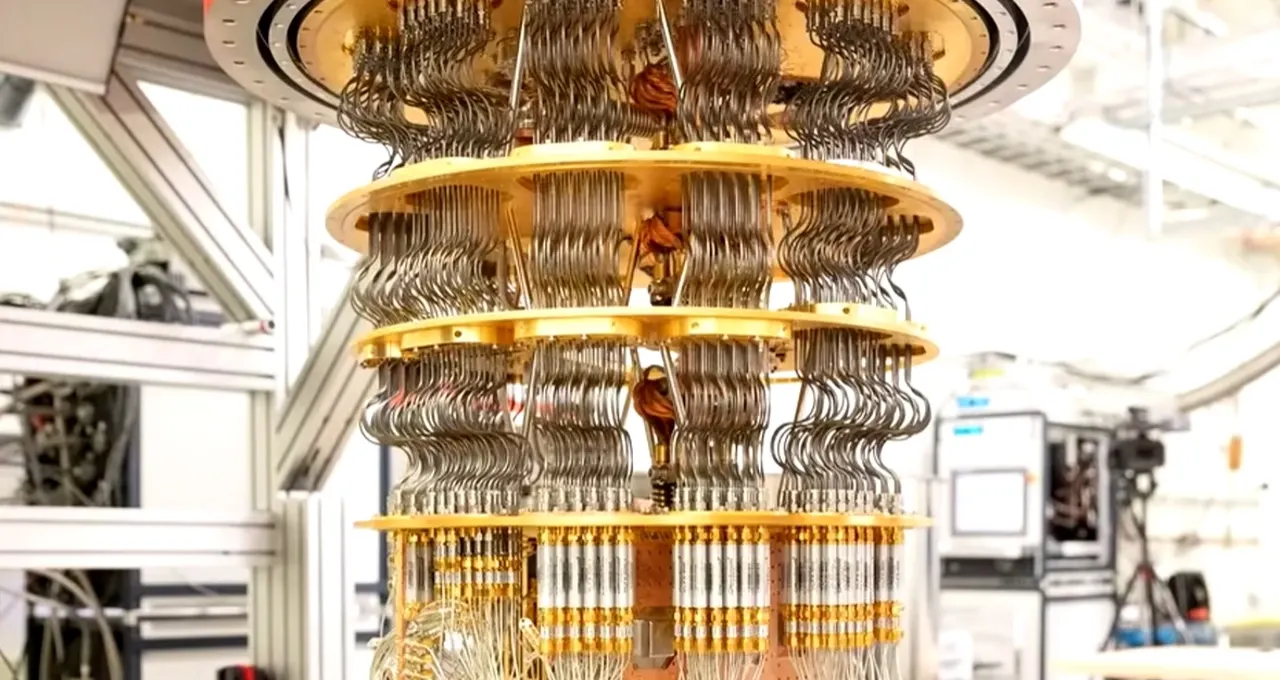 Well, maybe I lied just a little – we're going to explain something about quantum mechanics. But it will help to keep you from perceiving the concept in terms of science fiction.
Turns out atoms do not follow the traditional rules of physics. Quantum particles can move forward or backward in time, exist in two places at once and even teleport. And quantum computers aim to use these peculiar behaviors to their advantage. That's how they can solve problems that are seemingly impossible, or would take a traditional computer a billion years to accomplish.
Hence, the concept of Quantum Supremacy: the experimental demonstration of a quantum computer's dominance over classical computers since it performs calculations that were previously impossible at unmatched speeds. Okay, let's have a look at some differences, shall we?
Quantum Computing vs Classical Computing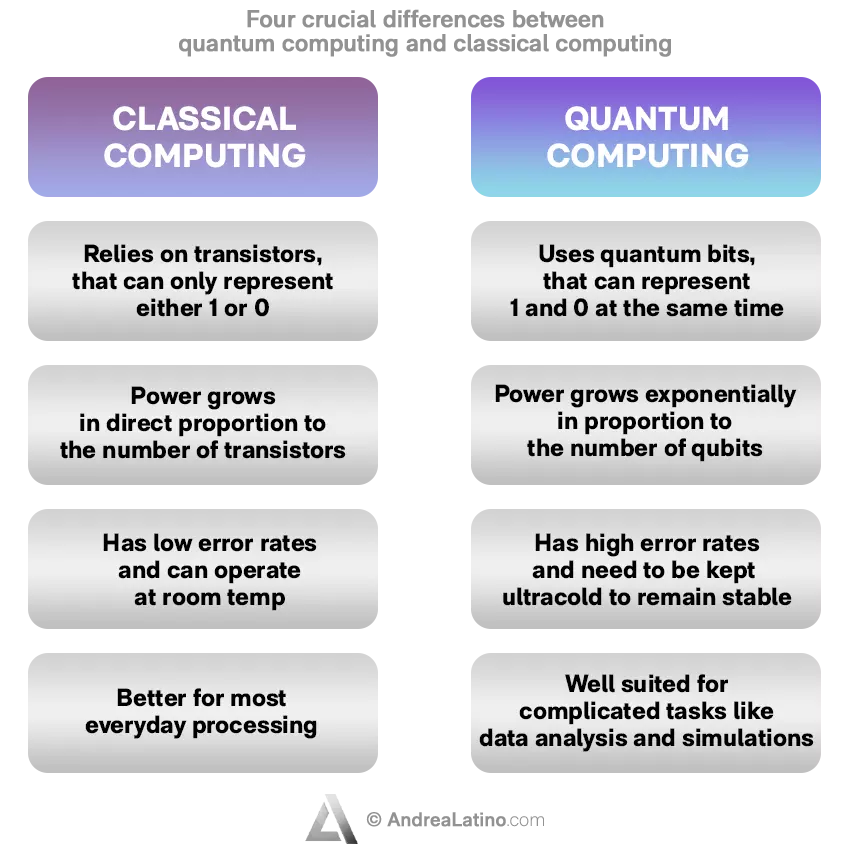 • Classical computers rely on transistors to crunch through operations. Transistors can only represent either the "1" or the "0" of binary information at a single time. Quantum computers use quantum bits (or qubits). So, quantum computers use ones and zeros, too, but qubits have a third state called "superposition" that allows them to represent a one or a zero at the same time. This means the time it takes to crunch a data set is significantly reduced.
• A quantum computer's power grows exponentially depending on the number of qubits linked together. A conventional computer, instead, sees its power increase in direct proportion to the number of transistors. This is another reason why quantum computers could eventually handle some types of calculations much better than classical ones.
• But it's not all sunshine and roses. Nowadays, quantum computers still have high error rates and need to be kept ultracold in order to remain stable. Classical computers, on the other hand, have low error rates and can operate at room temp.
• Last but not least, even if quantum computers could drastically outperform classical computers at some tasks — such as figuring out the best way to schedule flights at an airport — classical computers are still better for most everyday processing (email, spreadsheets and desktop publishing, for example).
Where do we stand today with quantum computing?
Let's refer to this statement by Juan José García Ripoll, researcher at the Institute of Fundamental Physics within the Spanish National Research Council: "Today, quantum machines are primitive systems akin to a calculator at the turn of the last century, but their computing power for very specific problems is much greater than a traditional computer's."
The reality of quantum computers is getting closer, but it's still far off. For example, currently there are no quantum computing languages per se. Researchers work on developing algorithms that can provide concrete solutions to the presented problems. QCs don't have memory or a processor. In order for researchers to interact with quantum computers, they have to use traditional computers and the cloud.
Moreover, they are very fragile: external disturbances force the system to define itself as 1 or 0, causing it to lose its quantum coherence. That's why the system has to be completely isolated at a temperature of -273 °C and isolated from Earth's magnetic field. Yet, at the same time, information cannot be stored in a quantum computer because they run for very short periods of time.
So? What can we do with a quantum computer?
Understandably, many sectors are itching to put this tech into practice. For example, in healthcare it will enable the design of new treatments for a multitude of diseases. In the automotive sector, it could be used to predict traffic volumes. And an area called "quantum finance" is particularly under observation.
Indeed, quantum computing opens a completely new range of options to be explored, like creating superposition with multiple probabilities that we cannot achieve today. But we mustn't get ahead of ourselves, particularly in everyday life. Quantum computing is just getting started.
Do you have a Strategy & Innovation challenge to tackle? Let's face it. Together.
C-levels from these companies (AND MORE) relied on my expertise to overcome thEIR CHALLENGES IN THIS AREA. And you can, too.
Can I help you?
Application Fields
• Computer Industry: In 2019, IBM unveiled the first commercial quantum computer, the IBM Q System One. The processor, through the cloud, can be used by companies for commercial applications. They range from financial models to personalized medicine, from weather forecasting to cryptography. In the new integrated system, IBM has included a number of custom arrangements: quantum hardware to produce quality qubits, cryogenic engineering to keep the quantum environment isolated and appropriately cooled, high-precision electronics, quantum firmware for management and automatic updates, and classical computation to provide secure access to the cloud.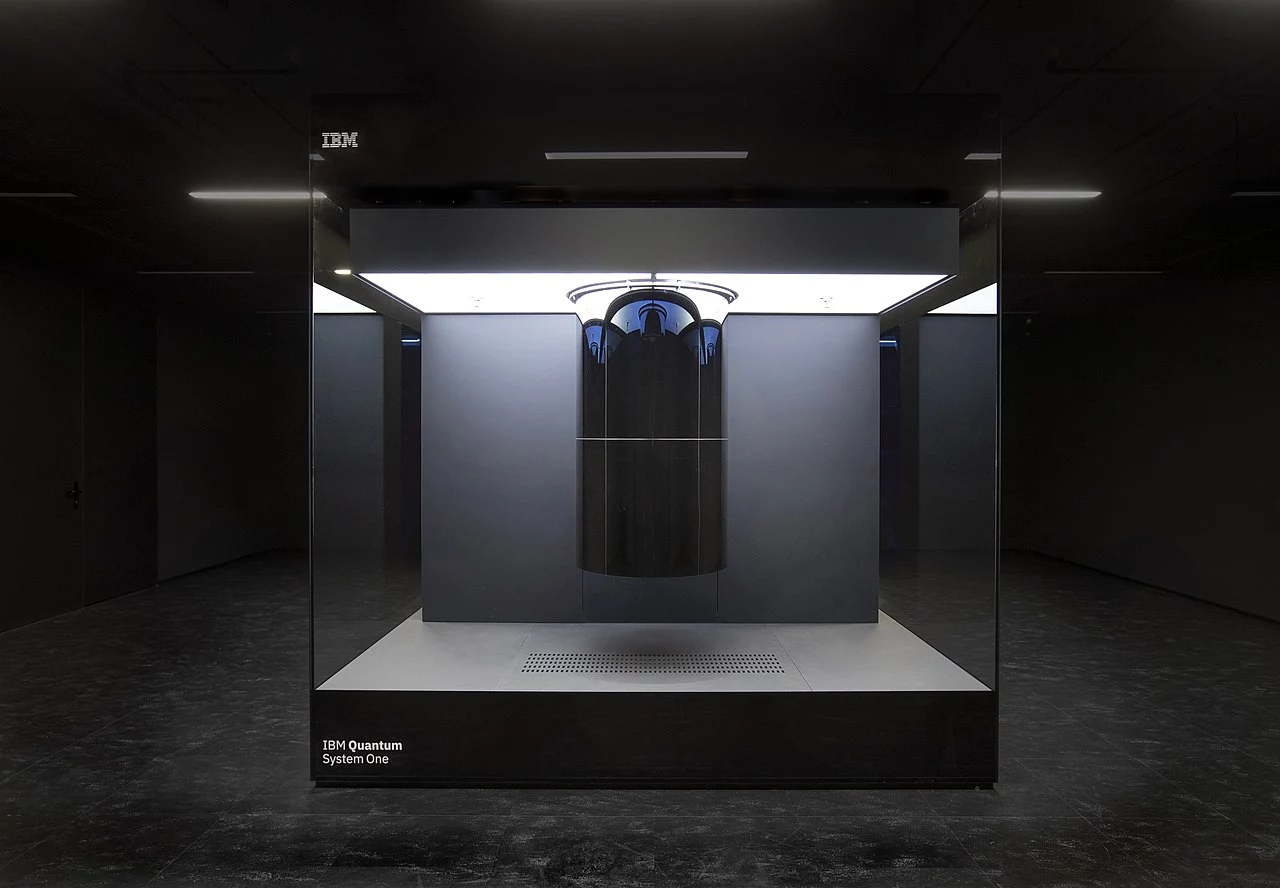 • Research: The Google Quantum Artificial Intelligence Lab is a collaboration between Google, NASA's Ames Research Center and the Universities Space Research Association dedicated to quantum research and development. The lab seeks ways to harness Artificial Intelligence in order to solve small and large problems. It also pursues the ultimate goal of making quantum computing accessible and useful for both high-level researchers and aspiring programmers. In the meantime, it is working on devising more efficient batteries and better fertilizers. But it is also moving ahead in the study of medicines that could prevent a future pandemics.
• Development: Amazon has launched Braket, a quantum computing service included among its Amazon Web Services that allows people to simulate the use of Quantum Computers in a development environment in which to design and test quantum algorithms, software and hardware.
Business Functions
• Quantum Computing in support of the supply chain
Daimler and Honda have announced plans to acquire IBM quantum computers to optimize traffic management and the operation of self-driving vehicles. Daimler, in particular, aspires to perform quantum chemistry calculations to develop more efficient batteries and wants to find the best way to route a new fleet of Mercedes-Benz vehicles.
• Quantum Computing in support of markets
Goldman Sachs, RBS, and Citigroup use quantum computing to detect market instability, develop trading strategies, market simulations, portfolio optimization, and financial forecasting.
• Quantum Computing in support of management
Managing train routing for a station is a complex problem, especially when inadequate or untimely action is taken, which can cause massive disruption. Reply has leveraged the power of Quantum Computing to make train and track scheduling performance more efficient through a model called QUBO (Quadratic Unconstrained Binary Optimization).