Innovation Alphabet
Subscription Model
in a nutshell
A subscription model is a business model that generates revenue by charging customers a fee at regular intervals. The company provides products or services to subscribers on a subscription basis, usually monthly or annually. In this way, loyalty becomes more important than acquiring new users.
Rundle
Bundled subscriptions are proving to be powerful tools to attract, engage, and retain users. A bundle happens when companies package several of their products or services together as a single combined unit, and offer it for a lower price than they would charge customers to buy each item separately.
Consumers are shifting to using more and more subscription services than they have ever used. That was to be expected: businesses are looking for a way to simplify experience for their customers and increase retention. Software that was paid for once every few years when a new model came out, is now a monthly expense. This is a new form of subscription model known as rundle.
Selling a subscription instead of a permanent license allows developers to continually refine the product. This way, customers end up paying about the same amount as they would to buy a new version every few years. They just wait less time for new improvements. But truth is that you can get subscriptions for everything, including physical goods.
"Rundle" comes from NYU professor of marketing Scott Galloway, as an abbreviation of recurring revenue bundle. Rundles mark a paradigm shift of the subscription services offer. Hence, new ways of thinking require new terminology to describe them. In particular, Galloway focuses on Apple's strategy and how you can pay one monthly fee for all your Apple needs.
Application fields
• Streaming platforms: Among the brands using a subscription model, platforms that provide audio or video streaming services are now unquantifiable. These are often entertainment-related industries, such as Spotify or Netflix, but periodic paid service providers for distance learning and information are not uncommon.
• SaaS (Software-as-a-Service): The acronym denotes a model for distributing software that is accessible to the user via the Internet and upon subscription. The provider hosts and manages the applications and takes care of maintenance activities. Typically, a limited free trial period is offered, after which it is possible to renew at a set price.
• Content: This is a category that often concerns newspapers in their respective online versions: the New York Times, National Geographic, and Corriere della Sera, for example, make certain articles and content accessible only after passing a paywall. The "wall" of course, collapses once the digital subscription to the platform is paid.
Industries
• Subscription model in the automotive industry
German automaker Audi introduced a subscription model in 2017 that allows its customers to drive certain cars for hire. Its slogan is quite explicit about the benefits of the initiative: "All of the power. None of the responsibility." The economy is increasingly geared toward subscription rather than ownership of cars, software, clothing, or entertainment tools.
• Subscription model in the fitness industry
Peloton, founded in 2011 in New York, is a company that manufactures gym equipment for home use. It is best known for the Peloton Bike, an exercise bike that has revolutionized the world of indoor cycling, creating a real community. How? Through a fitness platform integrated into the equipment they make. The subscription includes classes and customized workouts depending on the physical performance monitored through the tool itself. One can train in a group or alone, track progress and earn results.
• Subscription model in the gaming industry
Nostalgic "Crash Bandicoot" fans will still keep the videogame in a glass showcase. But today digital saves on space and romance. Sony's PlayStation Now platform is an on-demand subscription service for consoles and Windows PCs that allows users to stream games without the need to insert a disc or install the game, and without any processing. It is all based on Gaikai's cloud technology and Microsoft Azure. With a library of at least 650 video games (including now legendary titles such as "God of War" and "The Last of Us") the number of subscribers exceeded 3 million in May 2021.
Do you have a Marketing & Sales challenge to tackle? Let's face it. Together.
C-levels from these companies (AND MORE) relied on my expertise to overcome thEIR CHALLENGES IN THIS AREA. and You can, too.
Can I help you?
Business Functions
• Subscription model in support of customer relationships
GoPro is a California-based company that chronicles the adventures of its users by empowering them to take one-of-a-kind photographs. The GoPro (formerly PLUS) program grants subscribers unlimited cloud storage, customer support for replacing damaged components, and special discounts on accessories.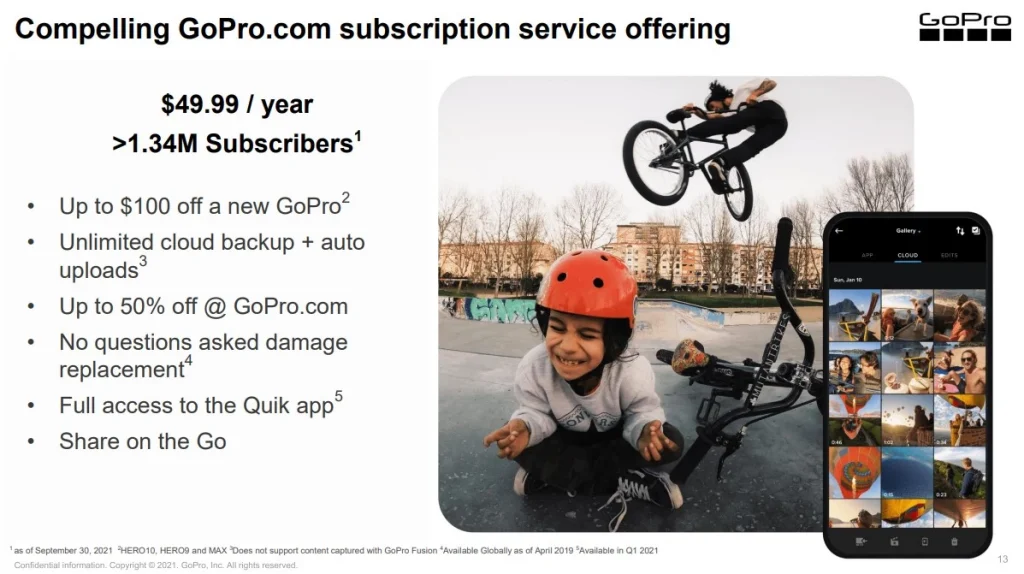 • Subscription model in support of HR
The most widely used social network for B2B communication, LinkedIn, purchased in 2015 the startup Lynda for $1.5 billion and renamed it "LinkedIn Learning." The platform offers video courses for businesses taught by industry experts in software, creative and business skills. It is chosen by 78 percent of Fortune 100 companies.
• Subscription model to support communication
Adobe is a software house that offers some of the most widely used programs in the world of graphic design, which is also fundamental for the creation of an effective communication campaign. The company switched to a subscription model in 2013, which then culminated in the creation of Adobe Creative Cloud, a platform that allows users to download the programs to their computers and then decide whether to limit themselves to the free version or pay the monthly fee to enjoy outstanding features.