Innovation Alphabet
Circular Economy
In a nutshell
Circular economy is a concept introduced by the Ellen MacArthur Foundation – one of the latest challenges for managers in terms of sustainability. It is a new model of production and consumption capable of self-regeneration because it is based on imitating natural cycles that transform waste: products are designed to be reused, regenerated, and recycled. A system that requires, first and foremost, a cultural change.
Application Fields
• Inside cities: Circular economy can be applied from an urban perspective so that buildings are used for energy and food production through the reuse of biological resources, such as wastewater and food destined for disposal.
• Sharing economy: Through this type of business, products are no longer purchased, but rented for temporary use by multiple users through pay-per-use contracts. The sectors in which the application of the sharing economy has been most successful are the transportation market (sharing mobility), computing devices, and music and movie streaming.
• New technologies: The circular economy is leading to the development of renewable sources. The resources mainly adopted in the new economic paradigm are Artificial Intelligence, Internet of Things, and Green Energy.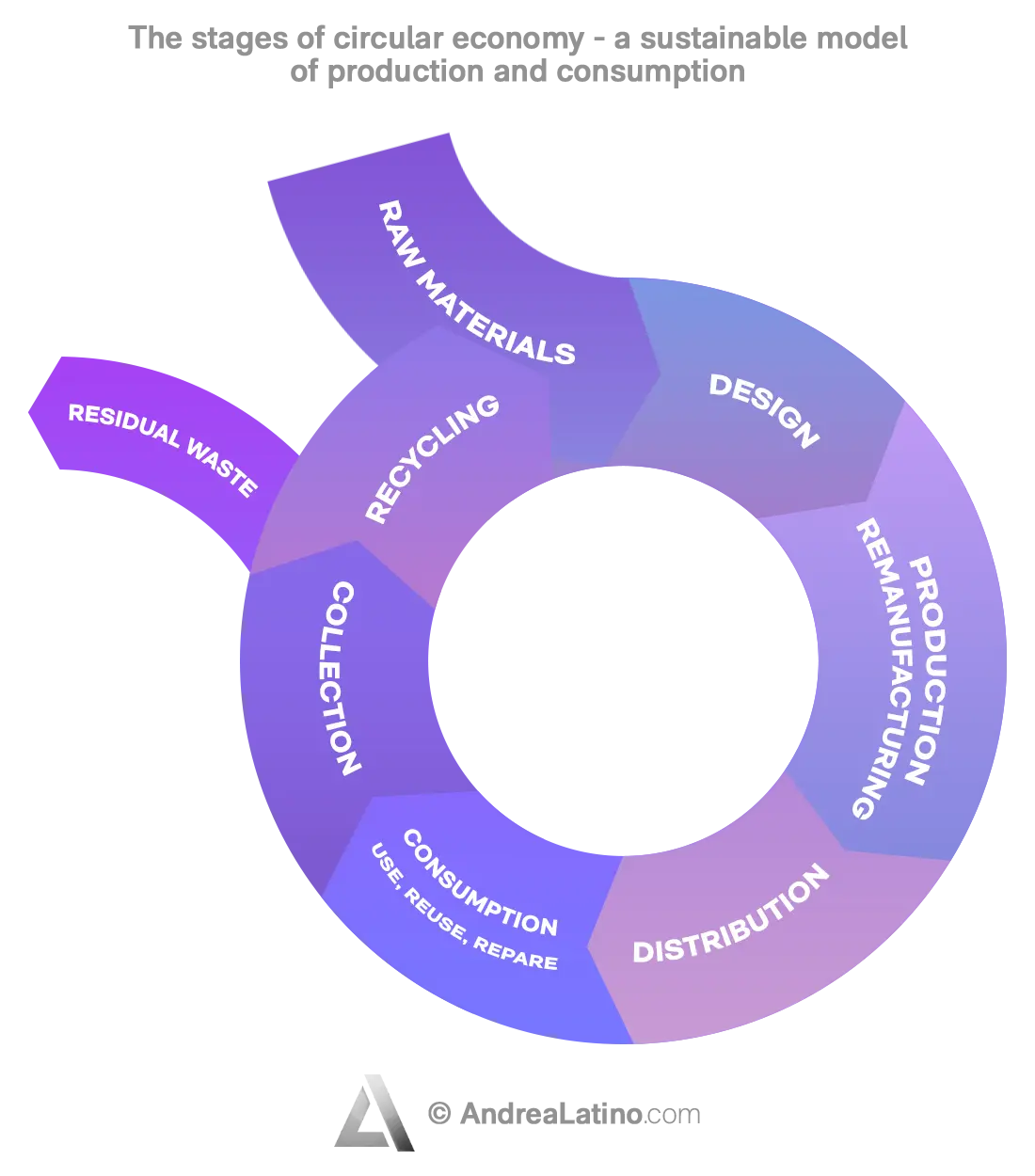 Do you have a Public Affairs & Comms challenge to tackle? Let's face it. Together.
C-levels from these companies (AND MORE) relied on my expertise to overcome thEIR CHALLENGES IN THIS AREA. And you can, too.
Can I help you?
Industries
• Circular Economy in the cosmetics industry
Poliphenolia, a cosmetics company from Treviso, has adopted circular economy for the production of cosmeceutical products. The introduction of recycled materials into the economic cycle occurs through the extraction of polyphenols from grape pomace. When applied within facial creams, they bring clear benefits to skin health.
• Circular Economy application in the energy industry
The Chinese city of Shenzhen, to reduce air pollution, has introduced a pilot program that encourages the development of the local electric vehicle industry. Vehicle electrification is an important step in enabling the transition to low-carbon renewable energy. The adoption of new types of service also incentivizes manufacturers to design vehicle components that remain in use for as long as possible, preserving their value and thus shaping the idea of the circular economy. Shenzen was the first city in the world to achieve the totality of buses powered through electricity.
• Circular Economy in the clothing industry
Circos is an online store that has introduced a subscription rental service for clothing for children and expectant mothers. Members pay a monthly fee to access a range of high-quality clothes including several branded items. The clothes are then returned, cleaned, and reused; alternatively, worn clothing is recycled. Through this model, environmental impact and resource use are reduced and clothing companies are incentivized to produce higher quality, durable clothing. In the first two years of life, a child needs an average of 280 pieces of clothing, most of which are worn for only two or three months. Renting rather than buying saves time, money and space, as "the wardrobe can grow with the family".
Business Functions
• Circular Economy in support of marketing
Milan-based startup Anagramma is an online platform that alerts a user about expiring products sold by supermarkets at a discounted price. The notifications are based on the user's proximity to the supermarket, using a variety of digital marketing tools. This business model is an example of a promotional activity that panders to the goal of extending product life cycles and preventing waste. An offshoot of the circular economy.
• Circular economy in support of HR
Attempting to solve problems such as growing e-waste production and digital exclusion in low-income communities, the government of the Brazilian city Belo Horizonte has established a facility to approach electronic remanufacturing: the Computer Reconditioning Center (CRC). Disadvantaged citizens receive in-depth training on restoring computer equipment from the service. The project funds more than 300 "digital inclusion sites", where citizens have free access to computers and the internet, as well as the opportunity to train in basic digital literacy. The remanufacturing of electronic tools is part of a path toward a low-carbon circular economy.
• Circular economy in support of management
DLL is a company that provides ambulances in the UK national health system. It embraced the circular economy in order to double the life cycle of its ambulances. The first step was to try to identify why ambulances were being returned after a few years. The main problem was high maintenance costs, particularly for chassis components. The rear end, on the other hand, was often in perfect condition. As a result, DLL planned to refit the ambulances by going to place the most valuable part of the ambulance – the rear part – on a new chassis. As a result, investment costs for the end customer decreased and the ambulance's back frame gained a longer service life.