Innovation alphabet
Digital Transformation
In a nutshell
Digital Transformation must be the main area of focus for a modern enterprise. It is an inevitable process of change that, when applied to a company's vital processes, can have a disruptive effect. The shift to technology innovates the business model, redesigns the internal organization, and improves relationships with customers, suppliers, and consumers.
A major difference
Digital Strategy vs Digital Transformation

Before we begin, let's highlight an important difference between these two similar terms.
Digital strategy is related to marketing, sales, and everything that is front-end with respect to the end consumer. The goal is to boost growth and revenue.
Digital transformation, on the other hand, includes everything that impacts on business models, processes, technologies, and skills of human beings.
Application Fields
• Business processes: Digitalizing business processes means rethinking, redesigning, and even "reengineering". This allows a company to take advantage of the automation modules provided by modern technology platforms. The latter are themselves characterized by a homogeneous and integrated user experience regardless of which device is used (desktop or mobile). On the one hand, this speeds up operations by reducing manual steps (thus minimizing errors) and ensuring greater control and transparency over the execution of each task. On the other, it enables the collection of data that can then be compared and analyzed to verify the actual efficiency of processes.
• Working ecosystem: Digital ecosystems will be critical to the fulfillment of technology conversion. Dynamic markets are forcing companies to transform to remain competitive. Digital transformation has led to the emergence of web and IT-related figures that did not even exist before.
• Business models: Digital Transformation enables new business models or makes existing ones more efficient. If applied to marginal processes, the transformation is likely to have inconspicuous results; if applied to core processes, the outcome will be explosive.
Industries
• Digital Transformation in tech & entertainment industries
Netflix leveraged Digital Transformation to innovate its business model and that turned out to be the move that saved the company – previously solely relegated to DVD rentals – from extinction. In 2007, in fact, Netflix launched an online streaming video on demand service to supplement its initial service at no additional cost to its subscriber base. Today, Netflix is the most popular provider of digital video content.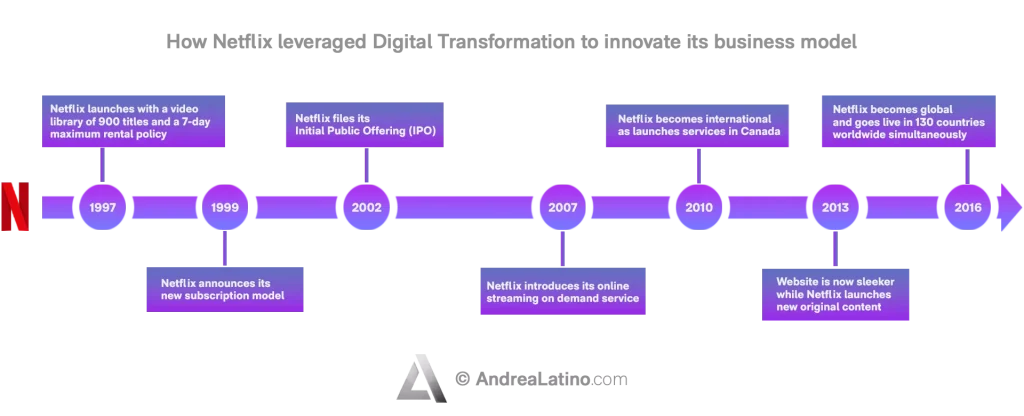 • Digital Transformation in the software industry
As part of a Digital Transformation, Adobe made the risky decision to convert from a license-based company to a Cloud-based company. Today, Adobe operates entirely in digital media through three subscription-based models – Creative Cloud, Document Cloud and Marketing Cloud.
• Digital Transformation in digital imaging
Beginning in the second decade of the 2000s, the growing popularity of digital cameras led to a sharp decline in Fujifilm's roll business, and the photography giant found itself on the brink of extinction. In 2012, the company decided to reinvent itself, entering several new markets, including pharmaceuticals and cosmetics. Here, Fujifilm created medical imaging equipment, digital X-ray diagnostics, and other technologies for the hospital sector. By deciding to embrace new technologies and expand its interests, the Japanese giant strategically diversified its profitability and became a significant player in the healthcare industry.
Do you have a Strategy & Innovation challenge to tackle? Let's face it. Together.
C-levels from these companies (AND MORE) relied on my expertise to overcome thEIR CHALLENGES IN THIS AREA. And you can, too.
Can I help you?
Business Functions
• Digital Transformation in support of customer loyalty.
Lego has done a great job in terms of customer engagement and retention relative to the study of new products. It probably could not have done it without the many opportunities offered by digital communication. Innovative projects include Mindstorm RIS (Robotic Investor System), the product line that combines programmable bricks with electric motors, sensors, and Lego Technic pieces designed to build robots and automated, interactive systems.
• Digital Transformation in support of customer proximity
The Generali Group company embarked on a Digital Transformation journey in 2011 in partnership with Microdata. Today, it is almost totally paperless in the management of incoming documents. But, most importantly, it can guarantee response times to clients and brokers that exceed market benchmarks. DAS has digitized the archive, building an integrated digital platform in which the management of incoming and outgoing documents is done quickly and easily, with benefits on both internal organizational processes and customer relations.
• Digital Transformation in support of process digitalization
Significant investments in research and development have enabled Dainese – an Italian manufacturer of technical equipment and protection for dynamic sports – to be recognized as a first-mover company in its target markets (which, precisely, range from clothing for motorcycling and extreme sports, to technical clothing for hostile environments, to aerospace safety). One of the most striking examples is the electronic airbag system for motorcyclists, D-air.