Innovation Alphabet
PESTEL Analysis
in a nutshell
PESTEL analysis is a popular strategic planning tool that focuses on external macro factors capable of influencing business activities. The acronym considers six factors: Political, Economical, Social, Technological, Environmental and Legal.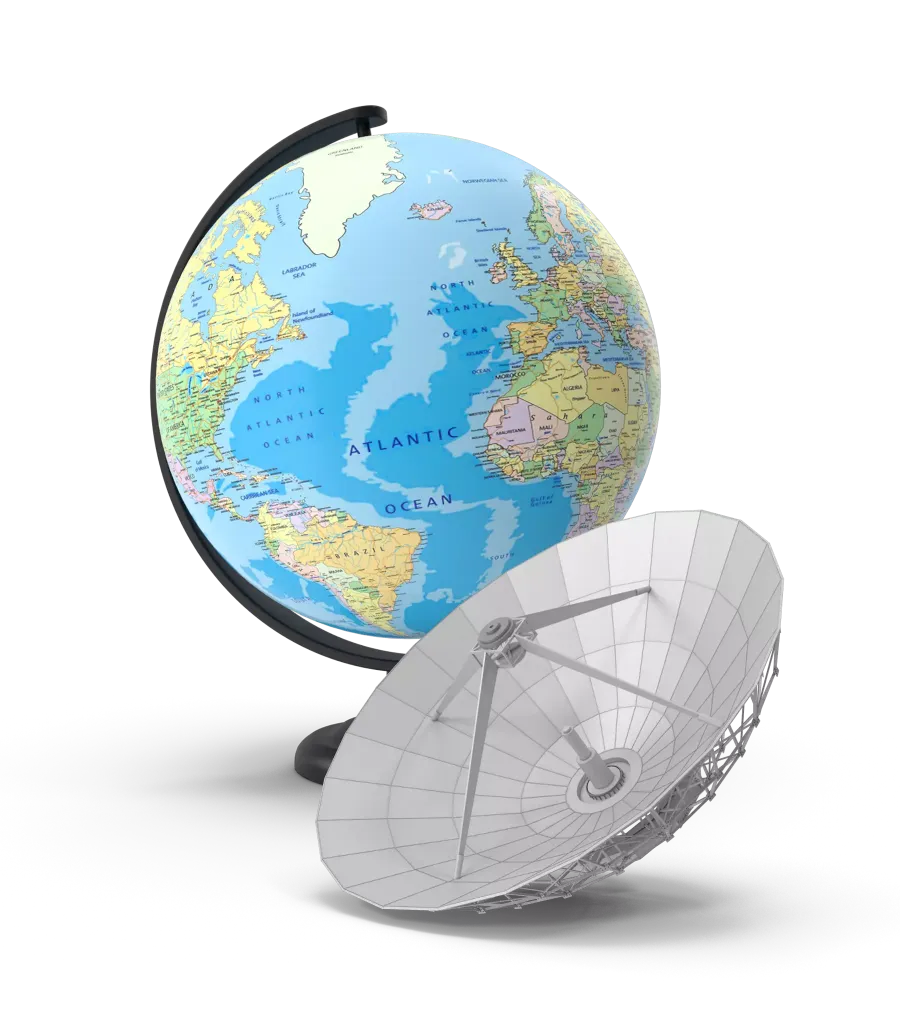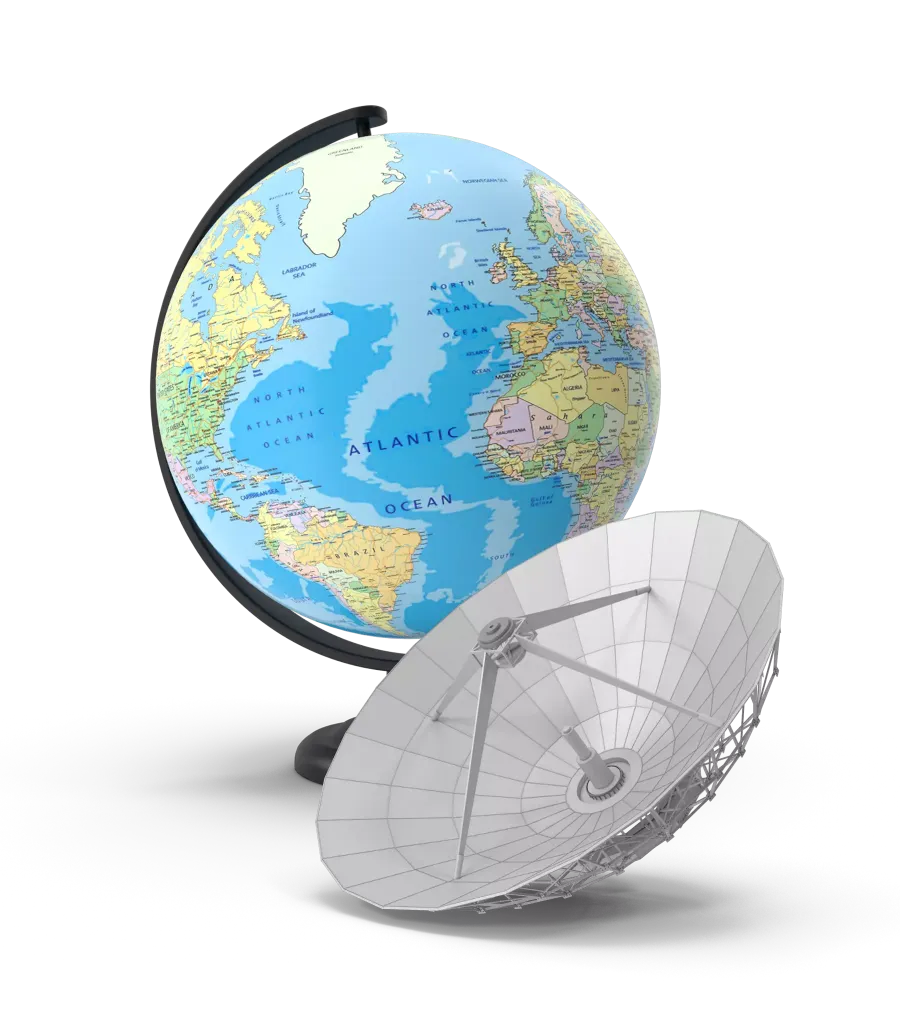 Application Fields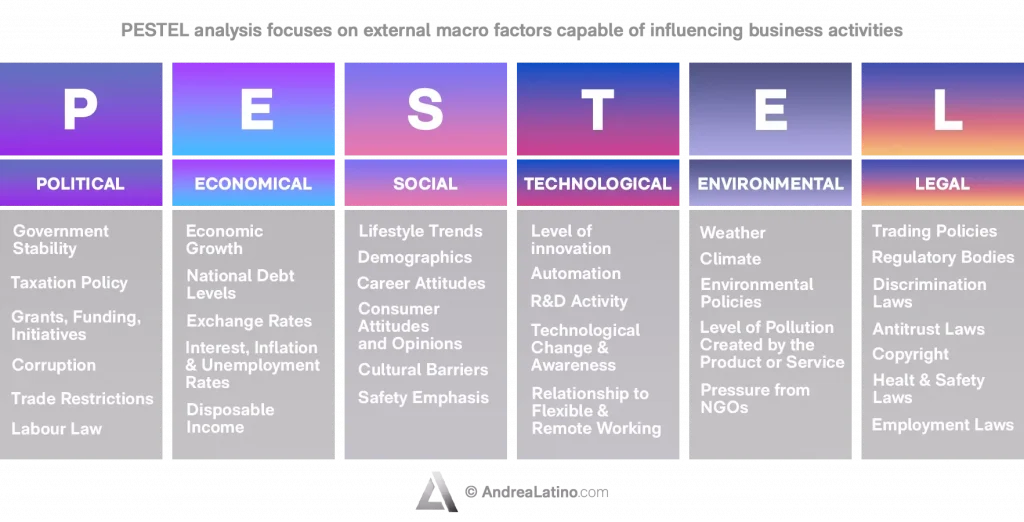 • Product development: By monitoring the external environment, a PESTEL Analysis can first help a company determine whether or not it makes sense to enter a given market. Also, it helps to understand whether a product or service meets a need of potential customers, or the best time to launch a new product proposition.
• Marketing: A PESTEL Analysis also draws on the external situation during the planning phase of marketing strategy. It can help a business consider the most striking current national or international events and build around them a coherent initiative with broad themes of generalized interest.
• Business strategy organization: Analysis also helps to gain an in-depth understanding of the context within which strategic change may (or may not) occur. It is even more effective when used in conjunction with a SWOT analysis to understand opportunities and threats that may arise, such as legislative or environmental issues.
Do you have a Public Affairs & Comms challenge to tackle? Let's face it. Together.
C-levels from these companies (AND MORE) relied on my expertise to overcome thEIR CHALLENGES IN THIS AREA. And You can, too.
Can I help you?
Industries
• PESTEL Analysis in the FMCG industry
PepsiCo is a famous American multinational food, snack and especially beverage company. The soft drink rival of Coca Cola, at least in the American market, is regulated by the Food and Drug Administration (FDA). It has to comply with a number of parameters, standards and current production laws, not to mention the existence of laws in international markets that regulate trade. In short, there are obvious legal implications to consider.
• PESTEL Analysts in shared mobility
Uber is an exemplary business model that applies the sharing economy to mobility. Among the external factors that the company needs to keep well in mind is, once again, the legal one: for example, the service arrived in Italy in 2013, and four years later it had to clash with the taxi drivers' trade association, which decided to sue the Silicon Valley company for a competition deemed unfair.
• PESTEL Analysis in sports products
In the production of apparel and sporting goods, Adidas is second only to American rival Nike in the same market. The challenge lies in being able to read social factors, to keep up not only in terms of the performativity of garments, but also by proving to go along with the current trends. Athleisure, for example, is a trend that consists of wearing garments originally designed for sports activities in casual settings. But Adidas also competes with other factors, such as technology – think, for example, about tracking in running shoes – and the environment.
Business functions
• PESTEL Analysis in support of the manufacturing industry
As we know well, Apple offers a plethora of electronic devices and services. The manufacturing industry, however, must get approval from several external factors, such as economic, which determine the cost of labor and thus the product. But also, legal: if Apple decides to manufacture cars, it would first have to confront the associated regulatory costs and go through prolonged bureaucratic processes.
• PESTEL Analysis in support of communication
The Japanese multinational Sony Corporation trades in electronic products: video games, consoles, televisions, as well as movies and music. In short, it produces a 360-degree form of entertainment. Thus, the technological factor is of primary importance to the brand, even though it may clash with economic and social aspects (think of the typically adolescent video game addiction).
• PESTEL Analysis in support of investment management
Instagram is among the most widely used social networks in the world: it has, on average, 500 million daily active users. In 2012, however, it still had (relatively) very few. That is why when Facebook decided to buy it many people turned up their noses. Yet within just a year, its value grew by leaps and bounds. Most of the revenue came from paid ads, which saw a 177 percent increase in 2018. Mark Zuckerberg understood that proper analysis of external economic factors gives a better understanding of which areas to invest in.