Innovation Alphabet
Porter's 5 Forces Model
In a nutshell
A little healthy competition doesn't hurt. Porter's 5 Forces model analyzes the competitive system in which a company operates to evaluate its position. In other words, it studies the intensity and importance of obstacles that could reduce the long-term profitability of a business. You just have to find ways to overcome them.
Forces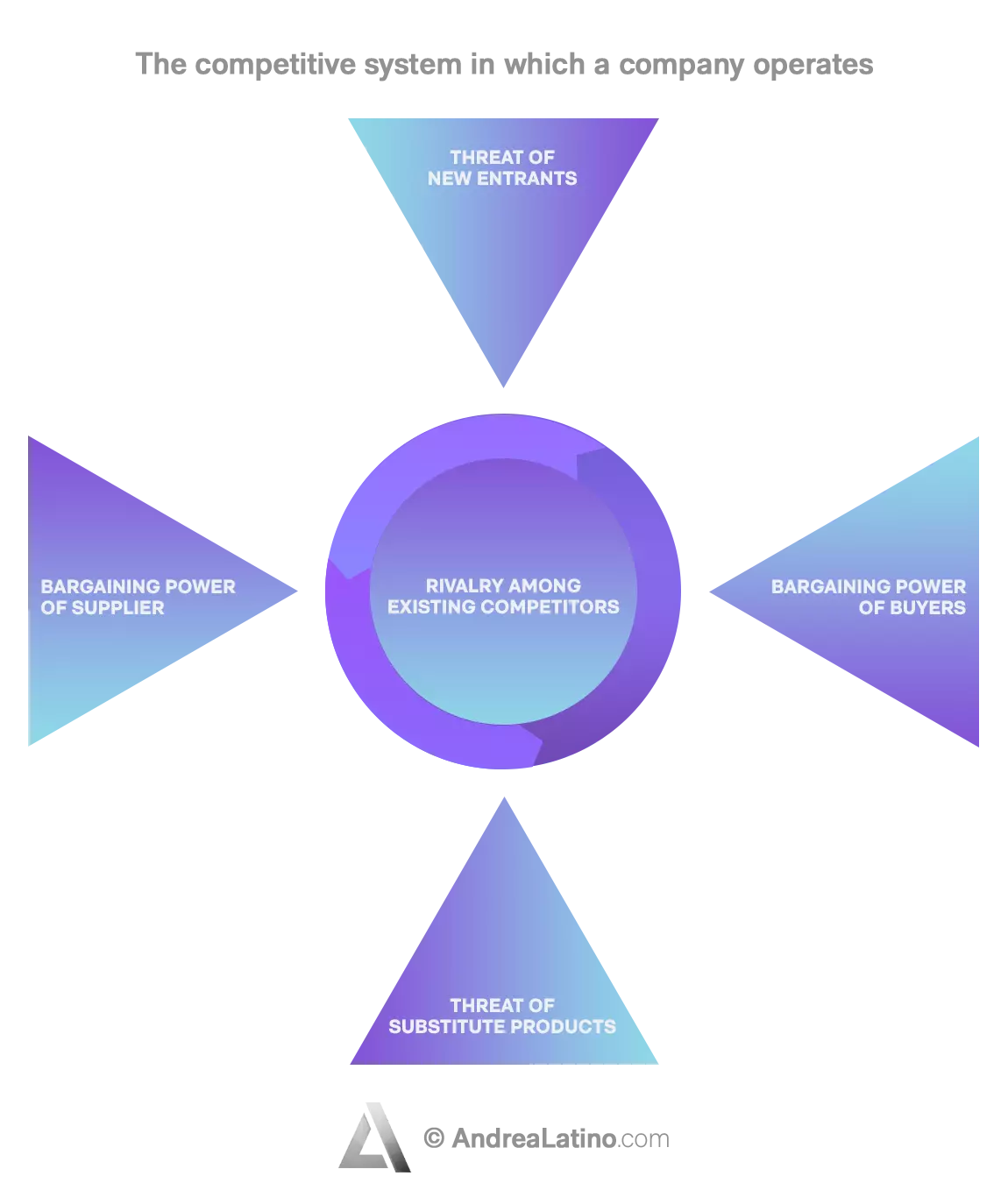 Direct competitors: These are companies that offer the same type of product in the same market. A high degree of rivalry between firms in the same industry means lower revenue prospects in the long run.
Suppliers: Entities that supply raw materials and semi-finished goods to a company, which are necessary to start the production process. A supplier's bargaining power depends on their number, the uniqueness of a good or a service, and how much it would cost a firm to change suppliers.
Customers: They share an ability to influence based on several factors. Their numbers, their individual importance, the cost to find new customers (or markets), and the cost to switch suppliers.
Substitute products: Goods or services similar to those already on the market but capable of meeting the same customer needs in a different way. They represent a direct threat, since they make demand elastic with respect to price.
Competitors: This is probably the most feared force. It depends, however, on the "barriers to entry": the higher they are, the more difficult it will be to enter the market, and thus the lower the threat to companies already present.
Life isn't easy for small businesses in the Gatekeepers Era. If they want to get to the customers, they need to understand how gatekeepers define value for their customers. Only in this way SMEs can find a match with their potential clients in terms of distribution, create a precise positioning and make their business independent from the gatekeepers.
Application Fields
• Pricing Strategy: Denotes the process of determining the price of a product or service offered by a company. It depends on a number of variables, including production costs, product value and market trends. Porter's 5 forces model can help a company determine an effective pricing strategy based on the competitiveness of the target market.
• Quality control. When a company encounters a particularly preponderant force of buyers, it may decide to implement a strategy to optimize the quality of the products it offers. The goal becomes to improve one's service to quiet the pushback from competitors.
• Brand Identity: If competitor strength is based on marketing strategies, a company may want to do the same. Strengthen your own brand identity to increase recognition and cling firmly to your place in the market.
Do you have a Strategy & Innovation challenge to tackle? Let's face it. Together.
C-levels from these companies (AND MORE) relied on my expertise to overcome thEIR CHALLENGES IN THIS AREA. And You can, too.
Can I help you?
Industries
• Porter's 5 Forces Model in the airline industry
Irish low-cost airline Ryanair has always implemented cost-cutting strategies, exploiting the attractiveness of lower prices. The price/quality ratio of a replacement service capable of creating competition is something that customers value and can seriously challenge competitors in the field.
• Porter's 5 Forces Model in the financial services industry
Visa is the result of a joint venture of financial institutions convincing consumers to use credit cards bearing the Visa name, merchants to accept such cards and process the resulting transactions using a shared network. In 2011, the company held 50 percent of the world's credit cards. Today, however, with the rise of other players such as Apple, PayPal and Google, Visa's future may be affected by the strength of new entrants in the industry.
• Porter's 5 Forces Model in the clothing industry
The luxury brand Christian Dior is part of the LVMH Moët Hennessy Louis Vuitton group. The luxury fashion industry is filled with direct competitors (including Gucci and Hermès). But Dior does not lose charm or competitiveness, as it is able to offer a range of products of different natures ranging from clothing to perfume, from accessories to cosmetics.
Business Functions
• Porter's 5 Forces Model in support of design
In making modular furniture with a now recognizable design, IKEA has always been able to design models adaptable to each customer's taste. The Swedish company has never shied away from innovation and has demonstrated adaptability for new housing needs derived from lockdowns and restrictions. A clear example of strength in the field of replacement products that constantly worries competitors.
• Porter's 5 Forces Model in support of innovation
Netflix was founded in 1997 by Reed Hastings and Marc Randolph. The industry occupies an area where barriers to entry are particularly high, and the strength of any competitors can only be based on subscription price, catalog breadth, and usability. The threat of substitute products is virtually zero, since the enjoyment of movie content today is almost exclusively online. But yet it was the intrusion of innovators such as Netflix into the previous market that led to the closure of Blockbuster and the demise of DVDs.